Pool Tek of the Palm Beaches
Commercial Pool Builder
Pool Tek of the Palm Beach's employees are dedicated craftsmen who are a crucial asset to our existence. We stand behind them and the pools we build with pride. Our technical expertise and custom design is delivered with solid construction that actually exceeds requirements set by the South Florida Building Code. And our expertise doesn't end with construction. We also repair and renovate pools to look as if they were new. We will bring life back into your old pool!
Pool Tek of the Palm Beaches can answer any question you many have. Give us a call. We look forward to hearing from you.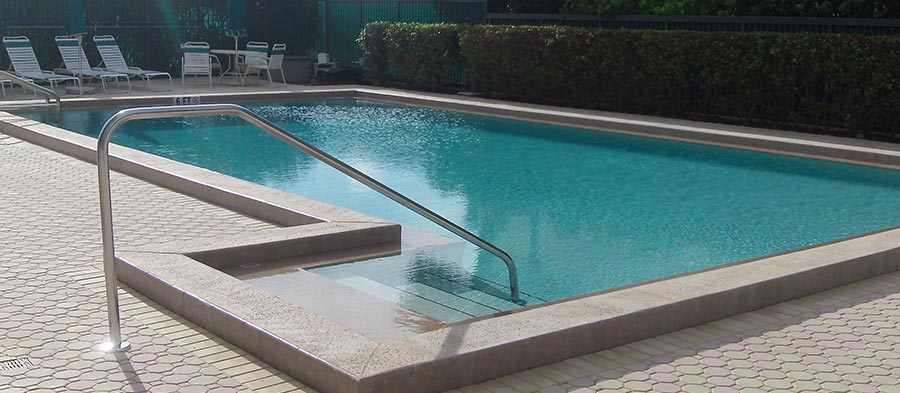 The Choice for South Florida Commercial Pool Builders...
South Florida's Leading Commercial Pool Construction & Renovation Experts
Pool Tek is South Florida's most reputable firm in the construction of commercial pools, spas and water features. Along with our ability to design new projects we also specialize in renovations, repairs and equipment. Call today to ask how Pool Tek of the Palm Beaches can bring your commercial pool to compliance with the Virginia Graeme Baker Act Code.
Pool Tek of the Palm Beaches can build you a new pool, spa or fountain for your commercial property. We will build your pool with the highest quality and standards that exceed requirements set forth by the Florida Building code. We can also add new life to your existing commercial pool! Whether you are looking to resurface, re-tile, add new equipment or even add a new deck, Pool Tek of the Palm Beaches can do it.
---
Pool Tek: commercial pool renovations, repairs and equipment
990 Stinson Way, Suite #213 • West Palm Beach, Florida 33411
Phone: (561) 514-1514 • Fax: (561) 514-1573

Website & Marketing by L.E.T. Group
Website Design Copyright © 2008-2023, L.E.T. Group, Inc. All Rights Reserved.
Licensed and Insured - CPC# 1457104