South Florida Custom Pool Design
Pool Tek of the Palm Beaches can offer you a wide range of new pool, spa and fountain construction.

Our custom gunite pools can be built to any shape and size that your request. We build your entire project "in house" from forming and steeling your "design" all the way to plumbing, tile, coping and deck work. Give Pool Tek of the Palm Beaches a call today to receive a free estimate for your Backyard Paradise.

Pool Tek of the Palm Beach's will build your pool with pride. Our technical expertise and custom design is delivered with solid construction that actually exceeds requirements set by the South Florida Building Code. Pool Tek of the Palm Beaches is proud to build your pool, spa or fountain in a timely manner. We will build any size and shape pool that will fit your backyard needs.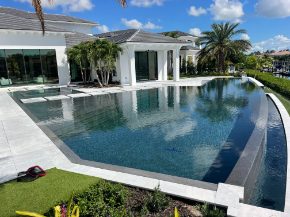 "After hearing for several years here in Florida about the pitfalls of hiring the wrong pool contractor, we interviewed six potential companies before deciding on Pool Tek. We were pleasantly surprised at the speed of the tile installation and resurfacing processes, as well as the professional attitude of the Pool Tek personnel.

Although we had a few minor issues as would be expected with any installation, we were impressed with the quick response from Pool Tek to resolve the problems. This shows your dedication to keeping us happy by providing us with everything you had promised, and doing it in a very courteous manner. In the end we have a beautiful new pool that has made our neighbors envious!"
John & Sheryl Giaimo
Pool Tek of the Palm Beaches, LLC
990 Stinson Way, Suite #213 • West Palm Beach, FL 33411
Phone: (561) 514-1514 • Fax: (561) 514-1573

Website Design Copyright (c) 2011, L.E.T. Group, Inc. All Rights Reserved.
email: office@pooltekofpb.com
Licensed and Insured - CPC# 1457104